Salem Academy students win statewide safety video contest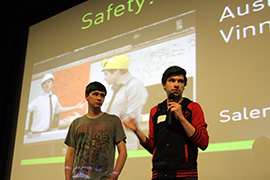 (Salem) – Two students from Salem Academy in Salem took home first-place honors and $500 for their video titled "Safety: The Musical" promoting young worker safety and health. Austin Coburn and Vinny Gasbarro wrote and sang original music and danced their way through the humorous 90-second video. Salem Academy also won a matching amount of prize money.
"Safety is a serious topic but there are fun ways to go about it – whether it's comedy, music, or both," said Coburn, a senior. "The video gets the message out but music is what keeps it in your head."
Coburn took second place honors in last year's contest with his video "Safety Police."
The other winners are as follows:
Second place ($400):
Milce Delgado Lopez and Daisy Abundez
Springfield High School, Springfield
"You Don't Know What You're Doing and that Could Kill You"
Third place ($300):
Andre Yu, Zeth Hillman-Johnson,Timmy Nguyen, Bob Lawrence, Sage Krening, Levi Markham, Seth Frecke, Luis Garcia, Emalee Guild, Addalai Clark, Jaime Paredes-Torres, Brandon Beverage, Mario Zivanovic, Vanessa Jones, Connor Bachelder, Dustin Hobbs, Robert Curtin, R.J. Person, Leon Vuong, Ethan Macbrough, Ryan Shone, Vadim Stasyuk, Rachel Billick-Smith, Kristy Lu, Matt McKenna, and Christian Rouse
Parkrose High School, Portland
"Speak Up. Work Safe."
Students' choice award ($200):
Michael Norris, Shawn Vielmetti, Keenan Reed, Colton Sundell, Josiah Beggio, Summer Fulcher, Dakota Cunningham, and David Bair
St. Helens High School, St. Helens
"You Good?"
The creators of the top videos were presented their awards Saturday during a special screening at the Northern Lights Theatre in Salem . The contest is designed to increase awareness about safety for young workers, with the theme of "Speak Up. Work Safe ." Students were asked to create a video with a teen job safety and health message and were judged on creativity, production value, youth appeal, and the overall safety and health message. All of the winning videos, as well as the other finalists, are available for viewing at www.youtube.com/user/OregonSafetyHealth.
The contest is organized by the Oregon Young Employee Safety Coalition (O[yes]). Oregon OSHA, SAIF Corporation, local chapters of the American Society of Safety Engineers, the Center for Research on Occupational and Environmental Toxicology (CROET), Liberty Northwest, Hoffman Construction, Central Oregon Safety & Health Association, the Labor Education and Research Center, SHARP Alliance, Oregon Health Authority, and SafeBuild Alliance sponsor the contest.